Sometimes he says he wishes he had teeth so he could scare off the other monsters, but he would never even hurt a fly. You may be confused by the name Banana, since there are three monsters in one. But we just say Banana for short. Let me explain.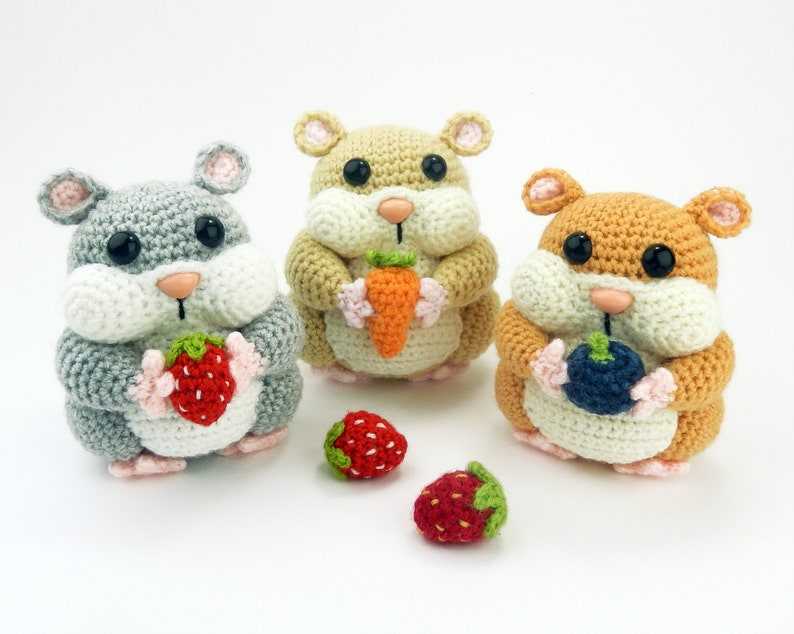 Banana is short for Ba, Nan, and Nuh. Ba is on the top with his pretty green eye and a combover that he is extremely proud of. He likes to grease it down and whip it around like Elvis. Nan is the monster sandwiched in between with his little blue eye and two arms. I chose to create Banana with three different eye colors to show that he has three different personalities. Little did I know, it was the perfect name to turn into three different names!
Crochet Animal Hats: 55 Free Crochet Hat Patterns for Kids
I chose to add the combover to give them an extra bit of character. From the top of his antennas to the bottom of his tippy toes, he is a sensitive sweetheart. He loves to go to the park and watch his monster friends play and have a good time. Triclops was the hardest monster to name because nothing was coming to me like the other four names did.
He sat here nameless for a good while until the day I announced the voting. I was talking to my husband, bouncing ideas off of him and ignoring him when he would throw out non-monstery names like Jimmy. I started googling Monster names and came across Cyclops. String Bean is extremely outgoing even being the most unique looking monster out of the bunch. Find the free pattern for String Bean here!
The Curse of the Jade Amulet.
Drums Ya,Learn The back Beat, Kids Learn How to play drums.
Five Short Stories.
Candy-clops Free Crochet Pattern.
Mandala Monsters Crochet Pattern Collection [Lookbook]?
You may use this pattern for your own personal use and sell your finished items created from this pattern, but you cannot claim the pattern as your own. I politely ask that you credit me, Heather Jarmusz, as the designer of this pattern, and that you include a link to my Etsy shop if you sell your items online. Viewing as a guest user. What am I missing?
Published in Heather Jarmusz's Ravelry Store. Published October Suggested yarn Lion Brand Vanna's Choice. Yarn weight Aran 8 wpi?
Der Doppelgänger (German Edition).
Cedric the Cyclops!
Crochet Animal Hats.
He was so excited to be packed away ready for his first journey out of the house. He does look rather pleased at the prospect of a great adventure! Giles loved this bit the very best of all. I was a teensy bit excited myself as this was my first trip in our new car. Our poor old Toyota Estima had given up for good during the heavy snows and icy temperatures of a few weeks ago.
Now we have a Nissan Elgrand with six captain chair style seats and all the space I could possibly need for my endless yarny clutter. Now you know that feeling when sometimes amigurumi making, — and particularly something like pattern testing — is requesting more concentration of you than you think you can give? I blame it on the early start but my brain would only cope with this simple ultra-repetitive four line repeat of this scarf.
Our visit was fun. Lots of gossip was caught up with and fine pub food was consumed. On the way back I decided to try out sitting in the back or rather the middle of the car. I made myself a comfy work area, got settled in a squishy leather chair and felt very decadent while I was at it. I think I could get used to this. Giles looks like he was born for this sort of luxury too and has made himself quite at home on the seat next to me!
Having never seen a booster seat for 14 inch tall giraffes I made him promise to sit still, tucked safely behind the yarn, or he would be back in the rucksack until we got home. With that threat hanging over him he was as good as gold and sat quietly, watching intently as a pink and a blue giraffe began to take shape.
Once we arrived back the sun was still out and after more than our fair share of snow and rain and wind recently it seemed too good an opportunity to miss so we headed for the garden. Rolling out a picnic rug and unpacking my bag I carried on with pattern testing. So much nicer than the fence to fence patio area that was down before. Oh well. I was just about crocheted out for the day at that point anyway.
Just to be extra sure there were no glaring errors in the pattern I went through it yet again in the studio the next day and not too long after I am now the proud owner of not one, not two…. If you want to have a go at making one the pattern is available from any of my online shops or, if you live in or near Worcester, come visit me at the Worcester Show in Gheluvelt Park on the 12th August and meet Giles the Giraffe in person. In the meantime I will be busy making lots more amigurumi and a few more scarves to stock up my stall as well as perfecting my new pattern for a pair of Tippy Toed monsters Called Timothy and Tabitha who will be heading over to Belgium to feature in a second volume of Amigurumi Monsters published by Meteoor Books over at AmigurumiPatterns.
This dinocorn will be one of Drake the Dragons book fellows and I cant wait to see how she turns out. And neither can Drake who is too excited to keep out of the project basket. March 24, by mojimojidesign 11 Comments. All this cold weather, unseasonable snow and bitingly cold winds can it really be springtime? And as pretty as such scenes are for an hour or two on a brisk walk through the park or during a snowman making session in the back garden there really is nothing as blissful to me as a cosy indoor nook, and a lapful of yarn.
Looking around my studio I had no shortage of sadly neglected projects that I could have been getting on with. However, not being the kind of person to let an out of control work in progress pile get in the way I walked the path I tread most often and decided to start a brand new project instead. Inspired by the sumptuous look of the loop stitch cushion cover I made for my bed a few years ago I embarked on another circular project that has been on my mind since buying a bargain basement footstool a while back.
I grouped similar colours together in bands this time which gave them much more impact. I also switched hook sizes up from a 3 mm to a 4 mm this time so that the fabric would have more elasticity when stretching it over the stool. This also had the benefit of making the whole thing grow a little faster and the looser tension was much easier on my hands. I packed up all the yarn for my project very conveniently inside the work itself and popped in a few tools of the trade. With a quarter of an hour to while away I managed a few loops huddled on the bench. The going was slow as my fingers were a bit reluctant to make the necessary movements in such low temperatures but I persevered.
Not a great amount of progress was made but it was perfect for keeping my lap warm! When the train arrived I had the special thrill of managing to find a whole four seater table area all to myself. I crocheted another round in the comfort of the warm and nearly empty train but this was only a short journey so it was soon time to disembark.
Loop stitches are not as quick as regular stitches but the rhythmic repetition is just as relaxing as any round of single crochets. Plenty of time to get stuck in again once I was home and all tucked up in my pyjamas. Crocheting in bed definitely beats crocheting on a windy railway station any day.
Crochet Animal Hats: 55 Free Crochet Hat Patterns for Kids | yzulafyw.tk
Can you tell that Pogo agrees? Oh, the energy of youth!
It would be a brave person who tries to winkle a ball of yarn from underneath this tuxedo firecracker! Eventually I do sneak the balls of yarn back one by one and some time later I have actually finished all the loop stitch rounds. Just the ends to knot together and trim at this point. I finished off the part that would gather underneath with a round of single crochet followed by a round of [1 sc, 1 ch, skip 1 sc] repeated to the end to make a round of small eyelets.
A final round of sc after that and it was finished. I fashioned a thin cord made of ch and threaded that in and out of the eyelets to pull everything tight and tied in a bow to secure the whole thing in place. In future I will up the hook size slightly to make the single crochets a bit looser as they were considerably tighter than the loop stitches and needed a bit of initial stretching to get these final rounds over the top of the footstool.
But I wrestled it on in the end and am really pleased with the outcome. All the colourful cushions are a great tonic when the clouds just keep on rolling in. They can dump shovelfuls of snow or bucketfuls of rain on the other side of the window but I shall mostly be found crocheting in here until things warm up a bit out there. March 5, by mojimojidesign 16 Comments. I have two designs in this volume. As I was doing this around Christmas time I opted for candy cane colours for my version.
Product Description
Designing Hamish was super fun. I especially liked working out how to make him a pair of cheek pouches roomy enough to keep him happy. Eat up hammies, I think you suit those tubby tummies just as well as those chubby cheeks, and you never know when a bout of hibernation will be necessary. But be warned! When she gets together with her chooky chums things can reach a whole new level on the noise-o-meter.
This volume features not one, but two of my monster families.
I completely love this partcular combination of lime green and jade green for the toes. Like this: Like Loading I have to admit, the final piece is really rather gorgeous! Now to take a peek at all of the other designs in the book…. So I ate outside… …and sometimes lit a fire outside as the temperature dropped slightly. There was a set of easy peasy squares to make next. I love how they work up so incredibly quickly.
Working around the resident cats where required. Now Daisy and Duke are part of one big happy family and never get a minutes peace any more. Duke is called Duke because he sports a terribly posh bow tie. Whittling down the WIP list is always an ongoing battle but things get done eventually. And true to my intentions, I did it. One down and fifteen to go. Pogo made a good job of guarding the precious firstborn Persian Tile… …while I got on with the rest. Those cat faces are so difficult to interpret sometimes… This is quite a complicated design at first glance but as I got used to each individual round on the first tile I knew it would be much easier to remember the repeats without looking constantly at the pattern if I made all the first rounds of the next fifteen tiles one after the other, then all the second rounds followed by all the third rounds and so on.
The look of love!